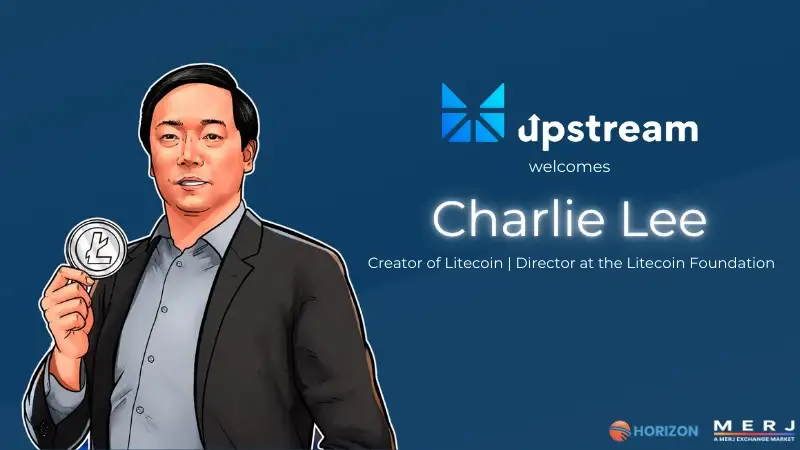 World-renowned computer scientist Charlie Lee joins Horizon's advisory board as Upstream's digital securities and NFT exchange prepares to scale
By Fernanda De La Torre
This week we announced that Charlie Lee, the creator of Litecoin and Director at the Litecoin Foundation, joined Horizon's Advisory Board to focus on Upstream!
Charlie Lee will work with Horizon on Upstream initiatives to further expand the trading app's crypto payment ramps and introduce key industry players to Upstream's compliance focused, Web3 trading technology.
Welcome Charlie Lee
Charlie Lee is a former software engineer at Google and engineering director at Coinbase. He is known for founding Litecoin, one of the earliest successful Bitcoin derivatives. Under Lee's leadership, Litecoin has remained one of the top cryptocurrencies in the world with a $4.3B market cap and daily trading volume exceeding $1.5B.¹ Litecoin has remained one of the top cryptocurrencies despite market volatility. With gains of over 24% over the previous seven days alone, Litecoin just finished last week with its most bullish week since June.²
"I am proud to join Horizon as Upstream ushers in the next generation of blockchain powered securities and NFTs for the masses," says Litecoin Founder Charlie Lee. "By adhering to Ethereum's fundamental principles and decentralized nature without compromising investor protection and simplicity, Upstream is well-positioned to accelerate its growth."
Like Upstream, Litecoin has been a true pioneer in its industry and is often referred to as "the digital silver." By enabling users to send low-cost, private, secure, borderless payments to anyone, anytime, anywhere, Litecoin aims to decentralize money, make it censorship-free, and open to all.
"Charlie Lee's vision aligns closely with Upstream," says Upstream Co-Founder Brian Collins. "Just as Litecoin set out to address Bitcoin's accessibility and transaction speeds, Upstream's methodology works to bring transparency and instant settlement to securities trading and utility-driven NFTs and longevity to the NFT market."
How Upstream ushers in the future of trading
As the first regulated market for digital securities powered by a blockchain, Upstream offers unique benefits to issuers and investors alike. Some of those benefits include:
Prevents market manipulation– As a blockchain-powered market, Upstream features a transparent public orderbook with no short selling and no wash trading, enforced by Ethereum smart contract technology.
Allows access to a global audience who can invest with cryptocurrency– Upstream allows global investors access to U.S. equities using cryptocurrency in the form of USDC stablecoin to appeal to modern-day investors and increase liquidity potential.
Web3 community building– Upstream offers a streamlined bridge into Web3 to expand our digital-first community. Upstream also supports NFT minting and trading to promote fan engagement and offer digital collectibles to users.
FDIC-insurance– Upstream accounts, U.S. & non-U.S., are FDIC-insured up to $250,000.
Streamlined on/off ramps– Cryptocurrency holders enjoy a streamlined on/off-ramp to/from popular cryptocurrency exchange platforms. US Dollar holders enjoy a fiat on/off-ramp to/from any U.S. or int'l bank when they sell their shares.
A MERJ exchange market– Upstream is a MERJ Exchange Market. MERJ is an affiliate of the World Federation of Exchanges. As a fully regulated overseas stock exchange, not a mini-market like an ATS or MTF, qualified issuers may cross-list Upstream securities in other global markets.
How Upstream ushers in the future of NFTs
As the first regulated market offering NFTs, Upstream protects brands and their fans as they enter into what we believe to be the future of fan engagement.
Some of the benefits of NFTs on Upstream include:
Carbon neutral marketplace– Upstream is 100% carbon neutral with its own solar "field" for cryptocurrency mining used to finance our layer-2 rollup transactions to Ethereum mainnet.
No gas fees– Because Upstream's layer-2 covers gas fees, the prices displayed for an NFT are the true prices for the NFT. Brands can offer millions of free, low-cost, and premium NFTs to drive engagement.
Familiar payment methods — Upstream simplifies the fan user journey on its secure, eco-friendly platform. Users can claim or purchase NFTs using PayPal, Credit or Debit Card, US dollars, or cryptocurrency in the form of USDC Stablecoin.
Unique NFT integrations– Upstream has introduced Redeemable NFTs to help brands and individuals integrate a digital rewards program for their audience to unlock digital merchandise, physical merchandise, rewards, or experiences while still being able to hold or trade the underlying digital collectible. This is in addition to the other promotional NFT integrations we have like ticket NFTs, membership NFTs, SoulBound NFTs, and other fan engagement driven NFTs.
Conclusion
We are thrilled to have Charlie Lee aboard. We believe adding a crypto trailblazer to Upstream will expedite our plans to support the industry with our Web3 technology solutions and create new onramps for the masses to participate in Upstream's offerings.
Charlie Lee joins Upstream's growing community of entertainment, sports, and music heavyweights including NBA Hall of Famer Dominique Wilkins, NBA All-Star Penny Hardaway, NFL Hall of Famer Edgerrin James, Antrel Rolle, Beatclub/Timbaland, BRON Studios, Ruffnation Entertainment, and more.
Parties interested in joining Upstream's carbon-neutral, non-custodial Web3 platform can learn more at https://upstream.exchange/ or reach the team at hello@upstream.exchange.
Source:
1 Coin Market Cap | 2 New BTC
Disclaimers
*This blog shall not constitute an offer to sell securities or the solicitation of an offer to buy securities in any jurisdiction where such offer or solicitation is not permitted.
*NFTs received have no economic value, royalties, equity ownership, or dividends. NFTs are for utility, collection, and display only.
*U.S. investors are not permitted to purchase Upstream listed securities. U.S. and Canadian citizens will only be able to trade in securities they currently own, that have been listed on Upstream, for liquidation purposes only.
If funding Upstream with an ACH or wire bank payment, users must complete Upstream's in-app KYC process to get their new, FDIC insured, Upstream U.S. bank account details via email. Users may then initiate a funds-transfer from their bank or financial institution to this new U.S. Dollar bank account. If you haven't completed KYC yet, or didn't select 'Bank' as the 'Deposit From' option when you completed the process initially, then please go through KYC again selecting the 'Bank' payment method. Users may complete the simple KYC process by tapping the settings icon and the KYC option inside the Upstream app.
Upstream is a MERJ Exchange market. MERJ Exchange is a licensed Securities Exchange, an affiliate of the World Federation of Exchanges, and a full member of ANNA. MERJ supports global issuers of traditional and digital securities through the entire asset life cycle from issuance to trading, clearing, settlement, and registry. It operates a fair and transparent marketplace in line with international best practices and principles of operations of financial markets. Upstream does not endorse or recommend any public or private securities bought or sold on its app. Upstream does not offer investment advice or recommendations of any kind. All brokerage services offered by Upstream are intended for self-directed clients who make their own investment decisions without aid or assistance from Upstream. All customers are subject to the rules and regulations of their jurisdiction. By accessing the site or app, you agreed to be bound by its terms of use and privacy policy. Company and security listings on Upstream are only suitable for investors who are familiar with and willing to accept the high risk associated with speculative investments, often in early and development stage companies. There can be no assurance the valuation of any particular company's securities is accurate or in agreement with the market or industry comparative valuations. Investors must be able to afford market volatility and afford the loss of their investment. Companies listed on Upstream are subject to significant ongoing corporate obligations including, but not limited to disclosure, filings, and notification requirements, as well as compliance with applicable quantitative and qualitative listing standards.
Forward-Looking Statements
This communication contains "forward-looking statements." Such statements may be preceded by the words "intends," "may," "will," "plans," "expects," "anticipates," "projects," "predicts," "estimates," "aims," "believes," "hopes," "potential," or similar words. Forward-looking statements are not guarantees of future performance, are based on certain assumptions, and are subject to various known and unknown risks and uncertainties, many of which are beyond the Company's control, and cannot be predicted or quantified, and, consequently, actual results may differ materially from those expressed or implied by such forward-looking statements. Such risks and uncertainties include, without limitation,
risks and uncertainties associated with (i) difficulties in obtaining financing on commercially reasonable terms; (ii) changes in the size and nature of our competition; (iii) loss of one or more key executives or brand ambassadors; and (iv) changes in legal or regulatory requirements in the markets in which we operate. The Company assumes no obligation to publicly update or revise its forward-looking statements as a result of new information, future events or otherwise.