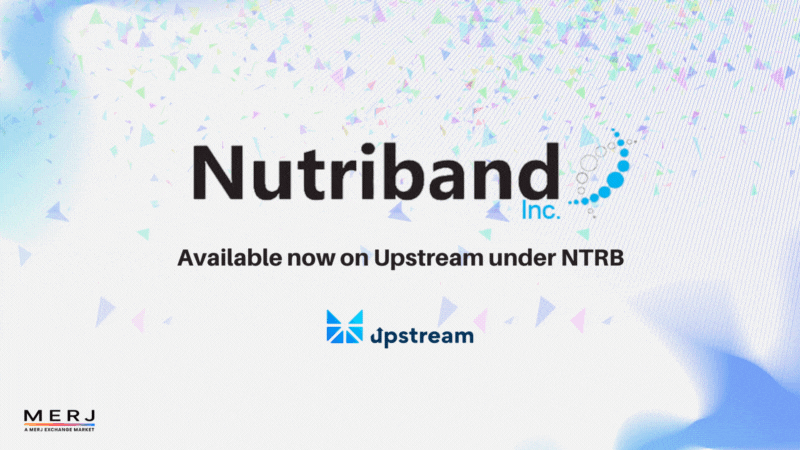 Ringing in the New Year with the first Nasdaq company to dual list digital shares on Upstream's blockchain-powered market
By Anastasia Samaras
What a historic week!
The first Upstream dual listing issuer, Nutriband Inc. (NASDAQ: NTRB) (NASDAQ: NTRBW) is now live on Upstream, a MERJ Exchange market, under NTRB!
This marks the first time a NASDAQ company has dual-listed digital shares on a blockchain-powered market.
Global investors can now trade by downloading Upstream from their preferred app store at https://upstream.exchange/, creating an account by tapping sign up, completing a simple KYC identity verification by tapping the settings icon on the home screen and tapping KYC, then funding their account with credit, debit, PayPal, USDC stablecoin or bank payment.*
Details on the Nutriband listing, how shareholders can deposit shares and trade on Upstream, and how to claim the commemorative NFT can be found at: https://upstream.exchange/nutriband. The Upstream market is open 5 days a week 20 hours a day, Monday to Friday: 10:00am to 06:00am UTC+4 (1:00am to 9:00pm EST).
Note, U.S. investors are not permitted to purchase Upstream listed securities. U.S. and Canadian citizens will only be able to trade in securities they currently own, that have been listed on Upstream, for liquidation purposes only.
Claim your free NFT commemorating Nutriband's dual listing
Nutriband's digital collectible NFT commemorating the dual listing is also available for all Upstream participants to claim with the claim code "NTRB!".
How to claim this historic digital memorabilia:
DOWNLOAD UPSTREAM and tap Sign Up.
CLAIM NFT. Open Upstream, Tap Investor, NFT, NFT Claim, and Enter Claim Code NTRB!
HOLD OR TRADE NFT. Supporters will receive a push notification and find their NFT in their Upstream portfolio.
Words from Management
"We are proud to have a trailblazer like Nutriband as the first company to dual list on Upstream and offer its shares to an international investor base seeking streamlined access to U.S. companies," says Upstream Co-Founder Mark Elenowitz.

"We are thrilled to be amongst the first companies to dual list on Upstream's next generation marketplace," says Gareth Sheridan, CEO of Nutriband. "We are adding new value to our shareholders while expanding our company and mission to a modern, global investor-base."
The dual listing on Upstream is designed to provide Nutriband the opportunity to access a global, digital-first investor base that can trade using USDC digital currency along with credit, debit, PayPal, and USD, unlocking liquidity and enhancing price discovery while globalizing the opportunity to invest in NASDAQ-listed Nutriband.
They are the first of what we hope to be many issuers that dual list on Upstream and help expand a global trading ecosystem where efficiency, fairness, and accessibility are enforced by blockchain technology.
Benefits of dual listing on Upstream
ACCESS A GLOBAL AUDIENCE WHO CAN INVEST WITH DIGITAL CURRENCY. Upstream offers investors a streamlined USDC stablecoin off-ramp back to popular cryptocurrency exchange platforms and features a public orderbook with transparency, no short selling, and no wash trading; enforced by Ethereum smart contract technology.
STREAMLINED REPORTING. Issuers may utilize SEC or OTCQX filings to satisfy Upstream reporting requirements.
SEAMLESS TRANSFER AGENT INTEGRATIONS. Upstream has U.S. transfer agent deposit and legend lift methodology in place to address common OTC/microcap share deposit and custody problems that can lead to illiquid holdings.
INTERNATIONAL USD ACCOUNTS. All Upstream user accounts, U.S. and non-U.S., are FDIC-insured up to $250,000. Issuers' U.S. shareholders also enjoy a US dollar fiat ACH off-ramp back to any U.S. bank when they sell shares. International investors' US dollar off-ramp is via bank wire.
LOW FEE STRUCTURE. As a MERJ Exchange market, Upstream features all the perks of a regulated national securities exchange, but with competitive listing fees and next-generation blockchain trading features including instant settlement.
DIGITAL SOLUTIONS ON A NEXT GEN TRADING APP. Streamlined shareholder management using Upstream's in-app cap. table solutions with compliant onboarding integrations, and streamlined share deposits from U.S. transfer agents, along with automated market making, in-app voting, in-app advertising, and other investor disclosure and communication tools.
WEB3 INTEGRATIONS. Upstream offers a streamlined bridge into Web3 to expand your digital-first community. Upstream also supports NFT minting and trading to promote fan engagement and offer digital collectibles and promotions to users which may be redeemed for products, services or experiences for added value.
A MERJ EXCHANGE MARKET. Upstream is a MERJ Exchange Market. MERJ is an affiliate of the World Federation of Exchanges. As a fully regulated overseas stock exchange, not a mini-market like an ATS or MTF, qualified issuers may cross-list Upstream securities in other global markets.
Conclusion
It is a great honor to have Nutriband as the first-ever dual listing on Upstream.
We really appreciate the support of our community and are thrilled to bring exciting opportunities to the market.
Upstream is actively accepting dual-listing applications from NASDAQ, NYSE, and OTC Markets issuers currently trading on U.S. markets and Alternative Trading Systems (ATSs) that are seeking to offer their shares to a modern-day investor pool that accepts digital currency and traditional payments. Learn more at: https://upstream.exchange/GetListed or reach the team at hello@upstream.exchange.
Dual listing on Upstream benefits flyer here.
Disclaimers:
This communication shall not constitute an offer to sell securities or the solicitation of an offer to buy securities in any jurisdiction where such offer or solicitation is not permitted.
NFTs received have no economic value, royalties, equity ownership, or dividends. NFTs are for utility, collection, and display only.
*U.S. investors are not permitted to purchase Upstream listed securities. U.S. and Canadian citizens will only be able to trade in securities they currently own, that have been listed on Upstream, for liquidation purposes only.
If funding Upstream with an ACH or wire bank payment, users must complete Upstream's in-app KYC process to get their new, FDIC-insured, Upstream U.S. bank account details via email. Users may then initiate a funds-transfer from their bank or financial institution to this new U.S. Dollar bank account. If you haven't completed KYC yet, or didn't select 'Bank' as the 'Deposit From' option when you completed the process initially, then please go through KYC again selecting the 'Bank' payment method. Users may complete the simple KYC process by tapping the settings icon and the KYC option inside the Upstream app.
Upstream is a MERJ Exchange market. MERJ Exchange is a licensed Securities Exchange, an affiliate of the World Federation of Exchanges, and a full member of ANNA. MERJ supports global issuers of traditional and digital securities through the entire asset life cycle from issuance to trading, clearing, settlement, and registry. It operates a fair and transparent marketplace in line with international best practices and principles of operations of financial markets. Upstream does not endorse or recommend any public or private securities bought or sold on its app. Upstream does not offer investment advice or recommendations of any kind. All services offered by Upstream are intended for self-directed clients who make their own investment decisions without aid or assistance from Upstream. All customers are subject to the rules and regulations of their jurisdiction. By accessing the site or app, you agreed to be bound by its terms of use and privacy policy. Company and security listings on Upstream are only suitable for investors who are familiar with and willing to accept the high risk associated with speculative investments, often in early and development stage companies. There can be no assurance the valuation of any particular company's securities is accurate or in agreement with the market or industry comparative valuations. Investors must be able to afford market volatility and afford the loss of their investment. Companies listed on Upstream are subject to significant ongoing corporate obligations including, but not limited to disclosure, filings, and notification requirements, as well as compliance with applicable quantitative and qualitative listing standards.
Forward-Looking Statements
This communication contains "forward-looking statements." Such statements may be preceded by the words "intends," "may," "will," "plans," "expects," "anticipates," "projects," "predicts," "estimates," "aims," "believes," "hopes," "potential," or similar words. Forward-looking statements are not guarantees of future performance, are based on certain assumptions, and are subject to various known and unknown risks and uncertainties, many of which are beyond the Company's control, and cannot be predicted or quantified, and, consequently, actual results may differ materially from those expressed or implied by such forward-looking statements. Such risks and uncertainties include, without limitation, risks and uncertainties associated with (i) difficulties in obtaining financing on commercially reasonable terms; (ii) changes in the size and nature of our competition; (iii) loss of one or more key executives or brand ambassadors; and (iv) changes in legal or regulatory requirements in the markets in which we operate. The Company assumes no obligation to publicly update or revise its forward-looking statements as a result of new information, future events or otherwise.