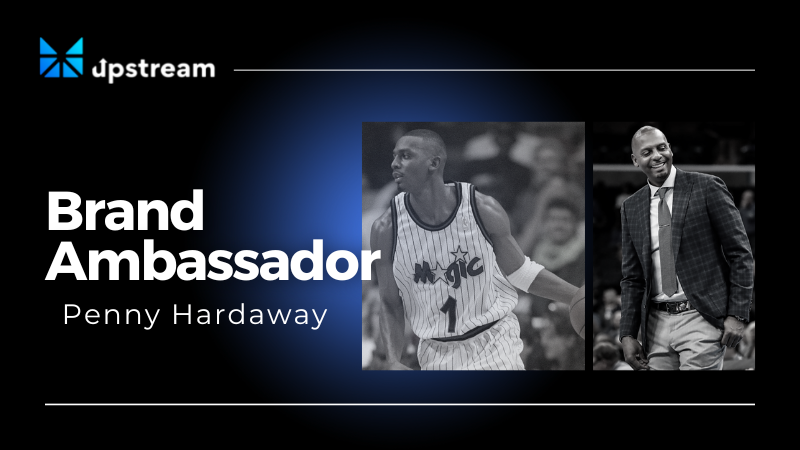 Penny to join other athletes and public figures in offering NFTs as digital collectibles to their fans.
By Anastasia Samaras
This week we announced that Memphis Tigers Coach and Former NBA All-Star Penny Hardaway joined Upstream as a strategic brand ambassador.
Penny, like many forward-thinking athletes, college teams, and brands, has begun generating new fan engagement opportunities by offering NFTs as digital collectibles, and redeemable-NFTs for fan experiences, inside current and future projects.
Upstream is thrilled to have Penny on board to help advise professional and college athletes on how to integrate NFTs into their personal brand-building strategies and generate fan engagement through Upstream's carbon-neutral, and regulated, NFT marketplace.
Welcome Penny Hardaway!
Penny Hardaway, alongside NFL and NBA Hall-of-Famers Edgerrin James and Dominique Wilkins, will help drive Upstream's trailblazing sports initiative which provides professional and college athletes a streamlined entry point into Web3 community-building and brand longevity.
As a former NBA player and current college basketball coach, Penny provides a 360-degree view into how Upstream's technology supports athletes' needs from the beginning of their careers. Hardaway brings indispensable insider knowledge from both the athlete and coach perspectives to further drive Upstream's initiatives.
"As a former professional athlete and current coach, I understand how important it is to foster a community," says Penny. "Upstream's NFT marketplace enables athletes to easily memorialize and monetize key moments in their careers while giving their fans the opportunity to engage with them and to build meaningful, personal, NFT collections."
The advantages that NFTs provide athletes
Professional athletes are beginning to realize the benefits of integrating Web3 NFTs into their personal brand-building strategies. Utilizing Upstream's NFT methodology, NFTs are being leveraged to increase fan engagement, enhance fan experiences, and provide potential new revenue streams that may be used to support athletes' careers, ventures, or charitable initiatives.
And, with the new NCAA name, image, and likeness (NIL) rules, college athletes can now sell NFTs on Upstream, thereby leveraging their NIL as endorsements, sponsorships, and a variety of other commercial ventures. NFT sales can help college athletes gain financial independence earlier in their careers and leverage their hard-won social media presence.
Upstreams' NFTs can be used by athletes of all levels to fund and drive exposure to their brand, a social impact initiative, and other goals. Additionally, NFTs bring fans closer to their favorite athletes by allowing alumni and fans to collect and trade meaningful digital collectible NFTs from professional and college athletes at important moments throughout their athletic careers.
What makes Upstream the best medium for athletes to enter the NFT Market
Upstream has created a seamless, user-friendly experience for athletes to enter the NFT space and engage with their fans. Upstream doesn't require any prior blockchain or technical know-how, and the app makes it simple for athletes to create NFTs, and really easy for fans to purchase NFTs, redeem NFTs, or claim free airdropped NFTs directly from their phones.
Upstream differentiators:
Upstream is a regulated NFT marketplace equipped to protect brands and their fans while enabling everyday fans to participate without any blockchain knowledge needed.
Upstream's simplifies the users NFT journey with in-app wallet creation, no blockchain gas-fees for users, and funding methods including PayPal, debit and credit card, and USDC stablecoin.
As a cash market, athletes withdraw NFT proceeds without worrying about converting cryptocurrency into US dollars. Athletes may withdraw funds immediately after sale to fuel their careers and enjoy continued fan engagement through fans' secondary trading.
Upstream is 100% carbon neutral with its own solar "field" for cryptocurrency mining whose yield pays for our Ethereum layer-2 rollup-transactions to Ethereum mainnet.
Concluding thoughts
We're excited to have Penny Hardaway join our growing community of sports, music, and entertainment heavyweights including NBA Hall of Famer Dominique Wilkins, NFL Hall of Famer Edgerrin James, Antrel Rolle, Beatclub/Timbaland, BRON Studios, Ruffnation Entertainment, and more.
Upstream's growing sports and entertainment initiatives are led by John Askew, part owner and COO of Primetime Basketball League, and Liquid Royalty co-founders Quenton Brown and Jawed Halepota. Make sure to follow us on social media to stay tuned with all the new opportunities coming with the support of Penny Hardaway!
Interested athletes can learn more at https://upstream.exchange/ or reach the team at hello@upstream.exchange.
Disclaimers:
*NFTs received have no economic value, royalties, equity ownership, or dividends. NFTs are for utility, collection, and display only.
*U.S. investors are not permitted to trade in upstream listed securities. U.S. and Canadian citizens will only be able to trade in a security they currently own that has listed on upstream for liquidation only.
*Funding using bank payments. For bank payments, complete KYC and initiate a wire or transfer from your bank or financial institution using the details provided via email after your KYC is approved. If you haven't already completed KYC identity verification or didn't select 'Bank' as the 'Deposit From' option when you completed the KYC identity verification process initially, please go through KYC again selecting this payment method. Complete the KYC identify verification process by tapping Me>KYC
Upstream is a MERJ Exchange market. MERJ Exchange is a licensed Securities Exchange, an affiliate of the World Federation of Exchanges, and a full member of ANNA. MERJ supports global issuers of traditional and digital securities through the entire asset life cycle from issuance to trading, clearing, settlement, and registry. It operates a fair and transparent marketplace in line with international best practices and principles of operations of financial markets. Upstream does not endorse or recommend any public or private securities bought or sold on its app. Upstream does not offer investment advice or recommendations of any kind. All brokerage services offered by Upstream are intended for self-directed clients who make their own investment decisions without aid or assistance from Upstream. All customers are subject to the rules and regulations of their jurisdiction. By accessing the site or app, you agreed to be bound by its terms of use and privacy policy. Company and security listings on Upstream are only suitable for investors who are familiar with and willing to accept the high risk associated with speculative investments, often in early and development stage companies. There can be no assurance the valuation of any particular company's securities is accurate or in agreement with the market or industry comparative valuations. Investors must be able to afford market volatility and afford the loss of their investment. Companies listed on Upstream are subject to significant ongoing corporate obligations including, but not limited to disclosure, filings, and notification requirements, as well as compliance with applicable quantitative and qualitative listing standards.