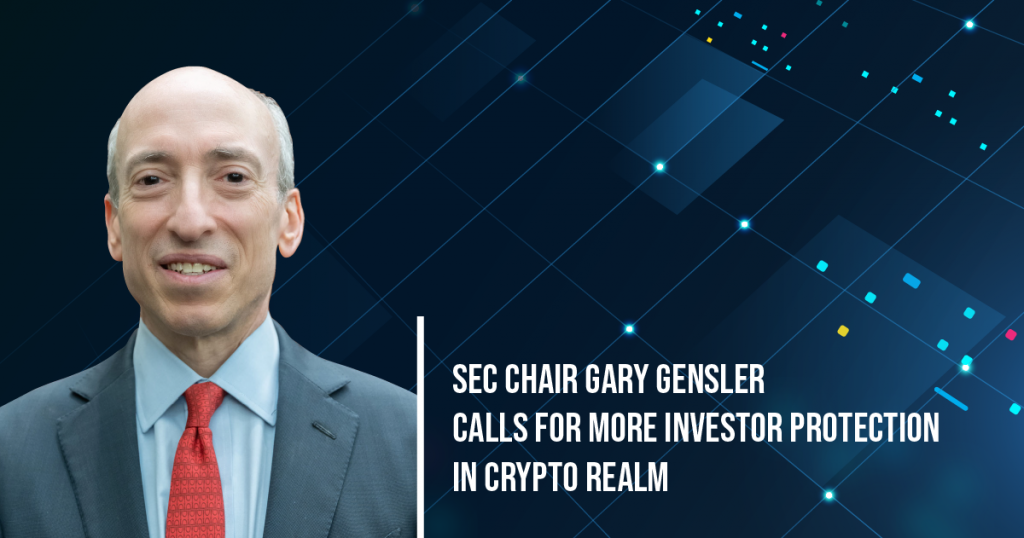 SEC Chair Gary Gensler's recent comments on crypto and the implications
By Vanessa Malone
Last week, Securities and Exchange Commission (SEC) Chair Gary Gensler gave a speech before the Aspen Security Forum and an exclusive interview with CNBC surrounding regulation in the crypto space.
Some were optimistic that the new SEC Chair, whose background includes teaching a blockchain course at MIT, would have a favorable view of blockchain technology.
Yet, with Gensler's call for more authority to police cryptocurrency trading, lending, and other blockchain trading platforms; the blockchain community is anticipating how the new regulatory landscape will be shaped.
"This asset class is rife with fraud, scams and abuse in certain applications. We need additional congressional authorities to prevent transactions, products and platforms from falling between regulatory cracks."

— SEC Chair Gary Gensler
Key points from SEC Chair Gensler's remarks
On whether cryptocurrencies are securities:
The market cap for cryptocurrencies is hovering around $1.8 trillion, with 77 tokens worth at least $1 billion each and 1,600 with at least a $1 million market capitalization.¹
Gensler's opinion on whether cryptocurrencies are securities aligns with former SEC Chairman Jay Clayton, who believed that every Initial Coin Offering (ICO) that he's seen has been a security and falls under current securities regulation.
In his address to the Aspen Security Forum, Gensler says he agrees with Chairman Clayton.
"You see, generally, folks buying these tokens are anticipating profits, and there's a small group of entrepreneurs and technologists standing up and nurturing the projects. I believe we have a crypto market now where many tokens may be unregistered securities, without required disclosures or market oversight."

— SEC Chair Gary Gensler
According to Gensler, thousands of cryptocurrencies could be operating as unregistered securities.
We're already seeing litigation in line with this position. The SEC is currently in a legal battle with Ripple, alleging that the platform raised over $1.3 billion through an unregistered digital securities offering.²
On August 9, 2021, the SEC announced that cryptocurrency exchange, Poloniex, has agreed to pay more than $10 million in a settlement for operating an unregistered digital asset exchange.³
More crackdowns of this nature could lead to a drop in U.S. marketplaces which would limit available trading venues, especially for U.S. investors.
On stablecoins and national security:
A stablecoin is a digital token backed by real-world assets. They have a 1:1 value with the US dollar which helps mitigate the volatility inherent in traditional digital currencies like Bitcoin, Ether, etc.
The stablecoin market is worth $113 billion.⁴ According to a report by The Block Crypto, nearly three-quarters of trading on all crypto trading platforms occurred between a stablecoin and some other token in July.⁵
Stablecoins have provided a necessary bridge between traditional finance and crypto. They introduce convenience, efficiency, and other benefits that come with cryptocurrency while protecting against the high highs and low lows that come with the territory. But the market isn't without criticism.
This year, popular stablecoin Tether created uncertainty regarding the reserves backing the token, a critical problem when maintaining a true 1:1 ratio is the sole purpose of a stablecoin.
Gensler's opinion on stablecoins is that they need regulation, and quickly. Gensler believes that stablecoins "may help facilitate those seeking to sidestep a host of public policy goals," including money laundering, tax compliance, and sanctions. Going a step further, the SEC Chair claimed the stablecoin industry could impact U.S. national security.
In July 2021, U.S. Treasury Secretary Janet Yellen called together a closed meeting of the President's Working Group on Financial Markets (PWG) to begin discussions on a U.S. regulatory framework for stablecoins.⁶
In the same month, Fed Chairman Jerome Powell testified before the House of Representatives and called for stablecoins to be held under stricter regulation and to be treated like bank deposits or money market funds.⁷
With regards to investor protection, Powell pointed out that certain stablecoins are backed mostly by commercial paper debts. He addressed that while these are usually liquid, financial crises could impact the market. This could have serious implications for investors.
As a fintech company that powers Upstream, a digital stock exchange and trading app, we believe that investors should be able to transact using traditional fiat and digital currency in a secure manner. We believe that stablecoins offer a digital currency onramp and protect investors from market volatility.
On consumer protection:
Gensler says the SEC's mission is to facilitate capital formation and maintain fair, efficient markets. At its core, the SEC aims to protect consumers and investors. During Gensler's interview with CNBC, he stresses the importance of providing basic protections against fraud and manipulation.
"Right now, we just don't have enough investor protection in crypto. Frankly, at this time, it's more like the Wild West… a lot of people "will be hurt" if the SEC doesn't take action."

— SEC Chair Gary Gensler
Cryptocurrencies, and their ability to operate with anonymity have played a role in recent ransomware attacks. One of the larger ransomware attacks was on Colonial Pipeline and it created a gasoline shortage across the southeastern US. The Justice Department said it seized approximately $2.3 million in Bitcoin paid to individuals in a criminal hacking group known as DarkSide.⁸
When it comes to individual investor protection, the majority of today's cryptocurrency exchanges are centralized despite decentralization being a core value of the blockchain community.
This can create honey pots of assets susceptible to hackers. A quick Google search will show various instances of accounts being liquidated, assets being stolen, etc., with no one to turn to for help.
Horizon's methodology:
As a fintech company powering the upcoming digital stock exchange Upstream, and fan engagement platform Global Fan Exchange, we have spent years designing platforms that balance accessibility, transparency, and investor protection. Our methodology is centered around investor protection while maintaining the integrity of what makes blockchain platforms appealing.
Upstream was built by a team of Wall Street veterans and software engineers to meet US-securities and bank-secrecy laws as standard practice. Investors will be able to securely buy and sell IPOs, SPACs, celebrity/athlete ventures, US and International equities, and other unique assets from their smartphones.
Under the hood, Upstream introduces what we believe to be the future of trading featuring some of the highest levels of transparency, accessibility, and investor protections enforced using Ethereum blockchain technology. These innovations include direct access to our exchange on the Upstream app, best bids and offers displayed on a public orderbook, and prevented predatory market practices like short selling, market makers, or other manipulations.
A few key features:
Blockchain enthusiasts know the phrase "not your keys, not your coins." On Upstream, investors will control their securities directly from their smartphones. Upstream will never know our users' private keys.
Decentralized, but with guardrails in place to protect investors. Some die-hard crypto enthusiasts are all for complete decentralization, but if the assets you own can be robbed with impunity, what's it all for? There simply are benefits to having protections in place that leverage traditional financial guardrails.
On Upstream, we ensure all investors are verified through our streamlined KYC/AML onboarding process to provide next level protection. This enables investors to have their securities returned to them if a private key is lost, stolen, or forgotten. It also protects against trading with bad actors.
Investors can trade using USD or digital currency in the form of USDC stablecoin. We believe we're increasing accessibility by offering traditional payments and digital currency.
Upstream features transparent pricing and market activity. We believe this works to create an honest and accessible marketplace while leveling the playing field for the everyday investor.
We believe our trading ecosystem is positioned to lead the next generation of blockchain-powered exchanges. Further, we believe that platforms that are forward-thinking when it comes to the changing regulatory landscape will come out on top.
Visit Horizon. Visit Upstream. Visit Global Fan Exchange.
Sources:
1 CoinMarketCap| 2 SEC December 22, 2020 |3 SEC August 9, 2021 |4 The Block Crypto| 5 The Block Crypto |6 US Dept. of Treasury |7 Reuters| 8 CNN| Aspen Security Forum
Disclaimers:
Upstream is a MERJ Exchange market. MERJ Exchange is a licensed Securities Exchange, an affiliate of the World Federation of Exchanges and full member of ANNA. MERJ supports global issuers of traditional and digital securities through the entire asset life cycle from issuance to trading, clearing, settlement and registry. It operates a fair and transparent marketplace in line with international best practice and principles of operations of financial markets. Upstream does not endorse or recommend any public or private securities bought or sold on its app. Upstream does not offer investment advice or recommendations of any kind. All services offered by Upstream are intended for self-directed clients who make their own investment decisions without aid or assistance from Upstream. Customers must comply with applicable law of their own jurisdiction. By accessing the site or app, you agreed to be bound by its terms of use and privacy policy. Company and security listings on Upstream are only suitable for investors who are familiar with and willing to accept the high risk associated with speculative investments, often in early and development stage companies. There can be no assurance the valuation of any particular company's securities is accurate or in agreement with the market or industry comparative valuations. Investors must be able to afford market volatility and afford the loss of their investment. Companies listed on Upstream are subject to significant ongoing corporate obligations including, but not limited to disclosure, filings and notification requirements, as well compliance with applicable quantitative and qualitative listing standards.
THIS BLOG SHALL NOT CONSTITUTE AN OFFER TO SELL SECURITIES OR THE SOLICITATION OF AN OFFER TO BUY SECURITIES IN ANY JURISDICTION WHERE SUCH OFFER OR SOLICITATION IS NOT PERMITTED. US INVESTORS ARE NOT PERMITTED TO TRADE IN UPSTREAM LISTED SECURITIES.