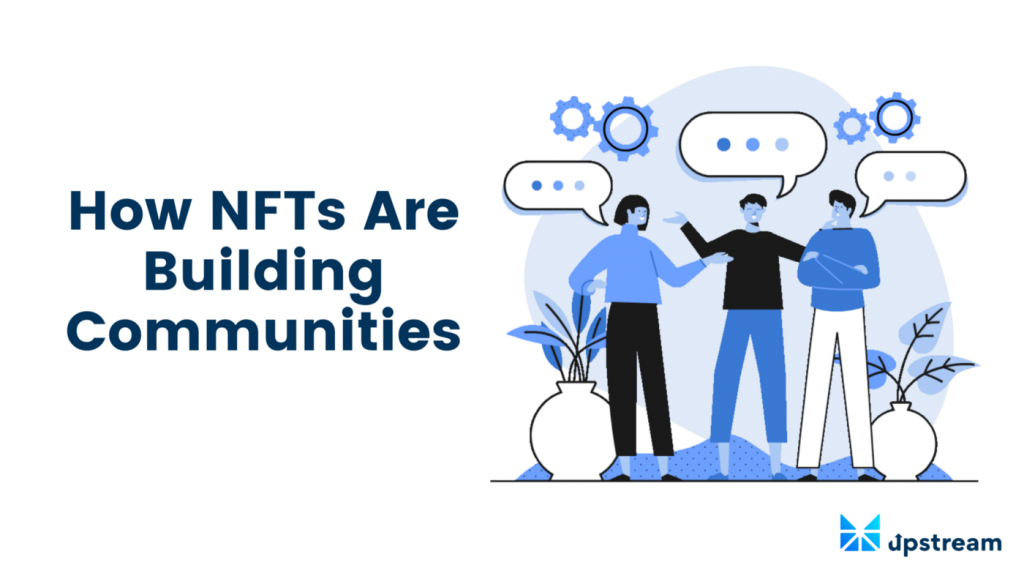 NFTs are creating new more immersive online communities
By Fernanda De La Torre
What is an NFT community?
With the popularity of NFTs on the rise, the communities that support each NFT collection have become a force to be reckoned with. These online NFT communities are eager to discuss and continue to engage with the projects they participate in. Some of the most popular NFT collections include Axie Infinity, Bored Ape Yacht Club (BAYC), and CryptoPunks, all bringing with them a vast community of traders. Axie Infinity, an NFT-based online video game, had 147,313 traders in the last week.¹
While the excitement is traditionally surrounding the high price tags these NFT collections can go for, the community engagement component goes deeper than this.
For example, Bored Ape Yacht Club, which NFTs go for an average of $360,000 saw just 177 traders in the last week.² However, a look at their twitter community shows 635,000 followers and a discord community with over 138,000 fans. NFTs have become part financial and part social to create a unique new online world.
The Perks of Communities
Purchasing an NFT not only gives you valued proof of ownership for that content but also a key to an exclusive online community with a shared interest. NFTs move beyond static content to unlock new experiences for holders like entry to games, access to more exclusive content, fan clubs, and other events. For example, Afterparty, a creator tools platform, is hosting an art and music festival later this year. Owning an Afterparty Utopian NFT is the only way to get in. In addition, NFT holders will also have access to a special pop-up at Miami's Art Basel and other events during the festival.² This crossover from the physical world to the digital world is very enticing.
Celebrities have also begun to join this digital revolution, which can create even more perks for holders. Through celebrity NFT projects, fans will be able to engage with their favorite celebrities in a new, more immersive way. For example, holding a celebrity NFT could unlock exclusive never-before-seen content, virtual meet and greets, and allow fans to feel closer to their favorite celebrity or athletes' projects.
With NFTs providing fans with a sense of ownership, it also encourages fans to engage and support further events and activities. With NFTs, fans can have timeless digital merch that likely won't lose value as a T-shirt would and there would be immutable proof that this merchandise is from the artist, musician, or athlete. Upstream is currently working on various projects that will bring fans closer to their favorite celebrities.
The Platforms Where NFT Communities Are Being Built
NFT communities have begun growing on social platforms like twitter, which recently introduced the ability to connect a wallet and display your NFT as your profile picture, telegram and discord.
Upstream has recently launched a discord channel to help bring the communities from our upcoming projects together in one place. Our discord channel will give you updates on all upcoming NFT airdrops, be an exciting waiting room for fans waiting to receive the claim codes for the NFTs, and a place to connect with their favorite celebrities and athletes. Join here:
For celebrities and athletes interested in launching an NFT airdrop powered by Upstream please reach us at hello@upstream.exchange for materials. Upstream offers celebrities a regulated market to protect your brand and fans. We don't charge upfront fees or minting fees. Fans enjoy a streamlined onboarding experience, no gas fees, and no third-party integrations on our Ethereum-powered, eco-friendly market.
Here's how to participate in an NFT airdrop on Upstream
STEP 1: Get Ready
Simply download Upstream and create an account. Upstream, a MERJ Exchange Market, is a regulated exchange. Upstream requires your photo ID and other details to stay compliant and keep our trading community safe and secure. It also means that you get insurance on your cash account for up to $250,000. Upstream ensures all your personally identifiable information is secure and in accordance with the most stringent global data protection rules.
STEP 2: Enter Claim Code
At the time of the NFT Airdrop, find the Claim Code on Honey County's social media pages and NFT landing page. Once you have the Claim Code, open the Upstream app, tap Investor, then NFT, then NFT Claim. Here you will enter the code to claim your NFT while the Airdrop is open.
STEP 3: Collect or Trade NFT
Winning fans will receive a push notification & the NFT will be added directly to your portfolio on Upstream to collect or trade with other fans.
Join our Discord channel to be one of the first to hear about upcoming drops and opportunities:
Source:
2 EDM
About Upstream
Upstream, a MERJ Exchange Market, is a fully regulated global stock exchange for digital securities. Powered by Horizon's proprietary matching engine technology, the exchange enables investors to trade shares in IPOs, NFTs, U.S., and international dual-listed equities, and celebrity ventures directly from the app https://upstream.exchange/. Interested issuers can reach the team at hello@upstream.exchange.
About Horizon
Horizon is a fintech company that builds and powers global securities exchanges with an integrated suite of software for compliant issuance, management, and secondary trading of securities. Their in-house solutions combine Wall Street and Silicon Valley to power the next generation of securities offerings and trading in the U.S. and globally. Learn more at https://www.horizonfintex.com/.
Disclaimers
Upstream is a MERJ Exchange market. MERJ Exchange is a licensed Securities Exchange, an affiliate of the World Federation of Exchanges and full member of ANNA. MERJ supports global issuers of traditional and digital securities through the entire asset life cycle from issuance to trading, clearing, settlement and registry. It operates a fair and transparent marketplace in line with international best practice and principles of operations of financial markets. Upstream does not endorse or recommend any public or private securities bought or sold on its app. Upstream does not offer investment advice or recommendations of any kind. All brokerage services offered by Upstream are intended for self-directed clients who make their own investment decisions without aid or assistance from Upstream. All customers are subject to the rules and regulations of their jurisdiction. By accessing the site or app, you agreed to be bound by its terms of use and privacy policy. Company and security listings on Upstream are only suitable for investors who are familiar with and willing to accept the high risk associated with speculative investments, often in early and development stage companies. There can be no assurance the valuation of any particular company's securities is accurate or in agreement with the market or industry comparative valuations. Investors must be able to afford market volatility and afford the loss of their investment. Companies listed on Upstream are subject to significant ongoing corporate obligations including, but not limited to disclosure, filings and notification requirements, as well compliance with applicable quantitative and qualitative listing standards.